New York Times Portraits of Grief
'THAT WAS FUN, WASN'T IT?'
Matthew Blake Wallens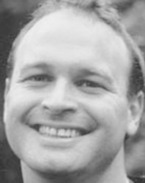 When Matthew Blake Wallens had lunch at his favorite pizza place with his wife, Raina Wallens, it was his habit to turn to her when she was finished.
"He would say, `That was fun, wasn't it?' " Mrs. Wallens recalled. "I would say, `Yeah.' And he would say, `That is what we do, we have fun.' "
That was the spirit Mr. Wallens, 31, created wherever he went, no matter what he did. So when he fell in the mud, it was the greatest mud in the world, said his father, Dr. Donald Wallens. "He found something to grab hold of in all life's experiences," Dr. Wallens said.
Known to all as Blake, Mr. Wallens was a senior vice president at Cantor Fitzgerald whose contagious enthusiasm made his clients look forward to his calls, knowing he could make a bad day good and a good day better.
"There are things in life you need," his father said. "You need to work and you need to play and you need to love. He did them all in an extremely satisfying way."

9/11: The Reckoning