New York Times Portraits of Grief
A WALK ACROSS THE BRIDGE
Nigel Bruce Thompson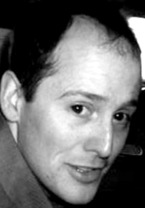 Many mornings and evenings, to work out and to reflect, Nigel Bruce Thompson walked across the Brooklyn Bridge from his Brooklyn Heights apartment to 1 World Trade Center, where he was a senior broker at Cantor Fitzgerald.
At age 33, Mr. Thompson was a newlywed who would have celebrated his first anniversary on Oct. 21.
His wife, Rosana, recalled being smitten with Mr. Thompson when they met in 1997 because he was handsome and had an off-color, British sense of humor. He proposed on bended knee over Peking duck. The wedding album is full of photographs of friends from Cantor Fitzgerald, many of whom were killed on Sept. 11.
"In my little group, we've lost 23 friends," Mrs. Thompson said.
Mr. Thompson's identical twin, Neal, said his brother was his opposite: a good-dresser, a physical fitness buff, tidy. They came to New York in the 90's from England and Nigel pushed him to be his best.
"He was a go-getter," Neal Thompson recalled.
Nick Boski, a good friend, said he and Mr. Thompson got together every Sunday night to watch "The Sopranos." Or they would go down to the Brooklyn Heights promenade and smoke cigars from Mr. Thompson's collection.
"You could see the World Trade Center," Mr. Boski said of the view. "I still go down there to feel connected to him."

9/11: The Reckoning