New York Times Portraits of Grief
HANDLING TRAVEL, AND CRAFTS
Karen Renda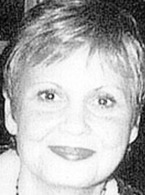 Two years ago, Karen Renda decided it was too boring at home. With her two boys — Daniel, 19, and Matthew, 15 — pretty much grown up, she traded her full-time homemaking career in Staten Island for a job as a travel agent.
But working for American Express , arranging trips for executives at Marsh & McLennan on the 94th floor of 1 World Trade Center, did not mean Mrs. Renda, 52, forgot her crafty side, her husband said. She still made silk flower arrangements and wreaths for Christmas.
And last February, for her youngest son's Valentine's Day school dance, she was in charge of the centerpieces for the tables — stuffed bunnies in pink and white that needed to be decorated with hearts and bows and arrows.
"One day I come home and the whole table was full of these bunnies staring at me," said her husband, Charles Renda. "There were about 100 of them."
Mr. Renda said he knew she was the one the minute they met on a blind date in 1972. "We immediately hit it off," he said. "She was very ladylike, very different from the girls I met in New York."

9/11: The Reckoning