New York Times Portraits of Grief
SUDDENLY SILLY
Emilio Ortiz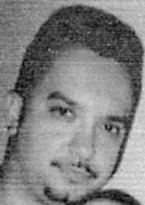 At Emilio Ortiz's wedding reception three years ago, his best man, Daniel Lopez, gave an emotional toast that caused people to get weepy. Suddenly, he turned to the bride, reached into his tuxedo jacket, pulled out a ring box and handed to her. Everyone in the room grew quiet, wondering what it was.
"It was a Viagra pill," the blushing bride, Wanda Ortiz, recalled, laughing. "Those two together were so silly. They were always playing jokes on each other."
Mr. Ortiz, 38, who everyone knew as Pete, was always playing jokes on his wife, too. He was supposed to draw the curtain after every shower, she said. One time, he forgot and she reminded him by asking, "What's wrong with this picture?" Instead of closing the shower curtain, he adjusted a picture on the wall and said: "It was a little crooked."
Mr. Ortiz, who worked at Carr Futures and lived in Corona, Queens, was the father of twins, Amanda and Emily. "I've never seen such a proud man," Mrs. Ortiz said. "The attacks happened three days shy of their first six months. We tried for a year to have a child. When we finally had one, God blessed us with two. It makes me angry that he only had five months with his children."
Mr. Ortiz and his best friend, Mr. Lopez, worked together. Both are missing.

9/11: The Reckoning