New York Times Portraits of Grief
A CALL THAT NEVER CAME
Krishna V. Moorthy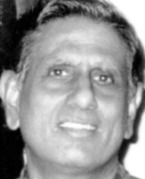 Krishna V. Moorthy's life was just beginning to feel settled down, said his daughter, Anitha.
He viewed his job as a technology consultant at Fiduciary Trust, at 2 World Trade Center, as a wonderful opportunity. A devoted if overprotective father who would find an Ace bandage for a scratch, he had successfully shepherded his daughter and son, Sriram, into adulthood. All this after Mr. Moorthy, 59, took a chance 11 years ago by immigrating to the United States from India with his family.
"He was one of those people never afraid to change," Anitha Moorthy said. "All of us would say, `You're not 30, you're 59,' and he would say, `So what?' "
On Sept. 11, Mr. Moorthy was at his desk by 7:45 a.m., and had placed his customary call to Saradha, his wife of 31 years, telling her that he had arrived. After the plane struck the north tower, he called again, saying that he was evacuating the building and that he would call again when got downstairs. That much is known.
But Mr. Moorthy's name later appeared on a hospital list in New Jersey. His family does not know if that means that he may be safe somewhere. For now, they are holding on to that uncertainty.

9/11: The Reckoning