New York Times Portraits of Grief
AN ANONYMOUS BENEFACTOR
Bernard Mascarenhas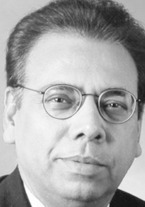 Bernard Mascarenhas was a zealous bridge player, an executive who had risen steadily up the corporate ladder, and a man who liked to take it easy on weekends with his wife and two kids. But it was what he was not known for that is worth remembering as well.
Deeply committed to education, Mr. Mascarenhas, 54, used to make anonymous donations to a number of different charities, in particular to scholarship funds. Among his causes, he would send anonymous scholarship donations to his native Pakistan, to assist Roman Catholics, a religious minority in that country.
Mr. Mascarenhas's influence was felt in the corporate world too. He was the chief information officer at Marsh Canada, a subsidiary of Marsh & Mclennan, in Toronto, and was in New York for a meeting on Sept. 11.
Mr. Mascarenhas's work on computer systems at the company was known as particularly innovative and wound up being used not only in Canada but in Marsh offices around the world. "He made sure everything he worked on was a first-class product," said Thomas J. Grimes, managing director at Marsh Canada.

9/11: The Reckoning