New York Times Portraits of Grief
AVATAR OF SPORTSMANSHIP
David R. Leistman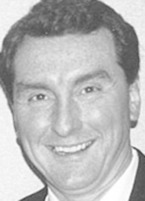 Scores of lacrosse players, old and young, came to David R. Leistman's memorial Mass in Garden City, on Long Island, on Sept. 22. Many were in their early 40's. They had played with Mr. Leistman in high school and at Adelphi University, where he was an all- American midfielder who helped the team win national championships in 1979 and 1981.
Many others, both boys and girls, were teenagers and younger. Mr. Leistman, 43, had coached them over the last 10 years in Garden City.
"More than skills, he taught love of the game and the values of competition, team work and sportsmanship," said Dennis Barry, the director of the Garden City Rams Lacrosse program. "Winning was not the only thing."
Besides achieving stardom at Adelphi, Mr. Leistman, a bond trader and partner at Cantor Fitzgerald, met his wife, Maryclair, there. They married in 1983 and had two children, Brian, 13, and Katie, 12.

9/11: The Reckoning