New York Times Portraits of Grief
A STRONG DETERMINATION
Adriana Legro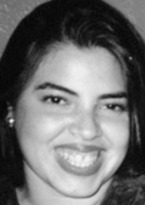 On Super Bowl Sunday, Adriana Legro ran a five- kilometer race in Central Park. It was her first time out with the New York Road Runners Club, but those who knew her never had any doubts that she would finish. She did, of course.
The youngest of four children of Colombian immigrants, Ms. Legro, 32, was known as the achiever in the family, the one who had accomplished the most in the shortest time. She was the only one of her siblings born here, and the only one to graduate from college. "She was strong-willed," said her sister, Maria. "She was really determined to make something of her life."
Ms. Legro worked as an institutional sales broker at Carr Futures. She lived in Elmhurst, Queens, with her 92-year-old grandmother, Beatriz Molina, and her Pekingese, named Lucky. Ms. Legro's mother had died when she was a teenager, and she often turned to her grandmother for advice. "I know she talked about getting her own place and leaving the nest," her sister said. "But she never did."

9/11: The Reckoning