New York Times Portraits of Grief
HARDWORKING AND AMBITIOUS
Brendan Lang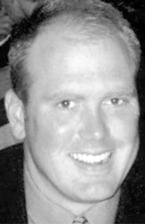 On Sunday, Nov. 23, Sandy Lang came by her in-laws' home and told her father-in-law, William Lang, that she was going down to Long Beach Island to leave some candles where her husband, Brendan, had proposed to her. "I asked, do you want company, and she said, 'Absolutely,"' Mr. Lang said. So together they drove through a pouring rain. As soon as they got to the beach, the rain stopped.
"See, he's speaking to you," Mr. Lang told his daughter-in-law.
Brendan Lang, 30, was a project manager for Structure Tone, and was doing work at the World Trade Center on Sept. 11.
He called his parents to tell them about a plane hitting the first tower, and that he had a "plan."
They believe that after calling them he went to help his aunt Rosanne Lang, who worked in the first tower. Neither of them made it out.
Brendan and Sandy were married for three years. They had recently purchased a home, next door to Middletown. Brendan was hardworking and ambitious, Sandy Lang said, but family was everything to him.
They had just gotten a puppy, a golden retriever they named Tucker.
Read an update on the family of Brendan Lang from 2011.

9/11: The Reckoning