New York Times Portraits of Grief
PORTRAITS IN THE MIST
David Kovalcin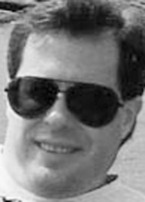 There are little ghosts of Daddy in the mirrors of the Kovalcin house in Hudson, N.H.
David Kovalcin had a habit of drawing smiling portraits of the whole family : his wife, Elizabeth, and their daughters, Rebecca, 4, and Marina, 1, on the steamy glass in the bathrooms. Now Rebecca draws her own, with only three people.
Mr. Kovalcin, 42, was a passenger on Flight 11, on a business trip for Raytheon , where he was a senior mechanical engineer. Mrs. Kovalcin said they had carved out a "Father Knows Best" kind of life, with him coming home at six every evening, choosing to know his family well rather than to work longer hours for more money.
She remembers that her husband had trouble sleeping two nights before his departure. "He woke me up at 3 a.m., and said `I'm pacing the house. I can't sleep,' " she said.
"I rubbed his head and tried to calm him down. He was very distressed, but had no idea what it was. Then three days later I remembered, and thought, `Holy cow, I wonder what that was about.' "
The morning he left home he had written a note for his family: "Rebecca, Marina and Mommy, I will miss everybody very much. See you Friday night." At the end he added, "I fed the dogs but not the fish."

9/11: The Reckoning