New York Times Portraits of Grief
BRIDGING THE GENERATION GAP
Mark David Hindy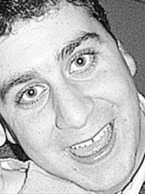 Mark David Hindy, 28, was 6 feet 4 inches, 250 pounds. His niece Olivia, 22 months old, is 2 feet 11 inches and weighs 30 pounds. That's a big difference -- a 3-foot, 5-inch, 220-pound difference, to be exact -- but somehow a bond had grown between them when she was even smaller.
"His hand was the size of her, but you could see the gentleness of his big hand supporting her back when he held her," said Ginny Hindy, Mr. Hindy's mother.
Olivia smiled at him when she was 6 months old -- before she had smiled at anyone else. When the family watched television, Olivia always crawled to Mr. Hindy's lap instead of her father's.
"She felt very secure with Mark," Ms. Hindy said.
Greg Hindy, Mr. Hindy's brother and Olivia's father, said that Olivia clearly missed her favorite uncle after the attacks destroyed the offices of Cantor Fitzgerald, where he worked.
"After 9/11, she would ask for Mark. `Markie, hug, Markie, kiss,' she would say," he said. "Then I would say, `Hug Daddy. Mark will hug you through Daddy.' Now she points to his picture, and says `Markie, angel.' "
Because of the pair's special relationship, the Hindys have created the Mark Hindy Charitable Foundation to help, among other things, fight diseases that afflict children.

9/11: The Reckoning