New York Times Portraits of Grief
A TOOL BELT AS A SYMBOL
Peter Gyulavary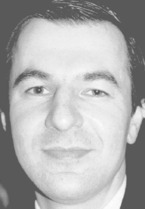 "I always knew Australia would bring me something special and magical," said Jane Gyulavary. So it did in 1986, when, after traveling there nine times in less than 10 years, she met Peter Gyulavary, a strapping Australian graduate student 11 years her junior, who in an instant convinced her that soul mates do exist.
They married, had a child, Geniveve, now 13, and returned to New York. They settled into a three-story Victorian in Orange County which Mr. Gyulavary, a 44-year-old environmental engineer for Washington Group International, insisted on painting yellow and green, the colors of Australia.
"All week he would work in an office, writing these massive reports," Mrs. Gyulavary said. "And then he would come home and put up a roof, paint the porch or sand a floor. He loved the physical part of life, getting his hands dirty. I'd have to ring a gong to get him to come in for a cocktail and dinner."
For weeks, she has hoped her husband would come home once more. Now she has resigned herself to saying goodbye to "his physical presence" by honoring him with a memorial service, where there will be no coffin, just a photo, draped with his tool belt, hard hat and a picture book of their beloved Australia.

9/11: The Reckoning