New York Times Portraits of Grief
FATHER FOR ALL AGES
Peter Gelinas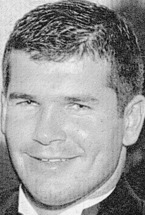 The future Michelle Gelinas was 23, enjoying the single life in Manhattan. It was 1993. A friend from a cubicle near hers at work invited her to a comedy club. It turned out to be a triple date, with one Peter Gelinas. He was a broker at Cantor Fitzgerald in the trade center. "We just hit it off," she said.
Fast-forward to 2001: Peter was still working at Cantor, enamored of his role as father to Jack Gerard, now 4, and Griffin Clark, 1. A few weeks before the terror attack, he took Jack camping in Pound Ridge, N.Y. "Most people thought he was crazy for taking Jack camping. Who takes a 3-year-old camping?" Even she had her doubts, telling them, "Forget it, I'll see you at 10 o'clock tonight." But the two braved the elements, followed deer and slept peacefully in a tent.
All Michelle can do now is make sure her boys understand that she is here to protect them, and how important they were to their father. "He really wanted to be part of their lives," she said. "He was so psyched for what was coming -- the bike rides, the Boy Scouts."

9/11: The Reckoning