New York Times Portraits of Grief
FIRE AND ROSES
James J. Corrigan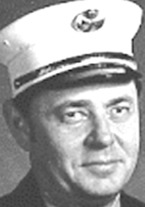 When James J. Corrigan was not fighting fires, he was smelling the roses. His house in Little Neck, N.Y., was suffused with their scent. He put them in vases; gave them to his wife, Marie; handed them to neighbors. Red, pink, yellow, white — they all flourished in the garden by his driveway.
He even gave them to the hardened men with whom he worked.
He was a New York firefighter for 25 years, retiring as a captain in 1994. He took a job the next year as a fire and safety director in 7 World Trade Center.
Last August, Mr. Corrigan, 60, was promoted to oversee fire and safety operations for the entire complex. His youngest son, Sean, had just gotten married three days earlier, and his oldest son, Brendan, often ate lunch with his father.
After the planes hit, the Captain called Brendan: "Don't go anywhere. We don't know what else is going to happen." Then the line went dead.

9/11: The Reckoning