New York Times Portraits of Grief
UNPACKING WAS A PLEASURE
Richard Caproni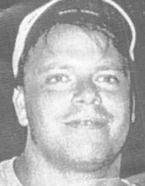 It was just a studio apartment, but Richard Caproni had finally become a homeowner after more than a decade of renting in Manhattan and Queens. He had bought in Lynbrook, on Long Island, not far from where he grew up, and moved in three weeks ago.
His sister, Lisa, was still decorating the place in denim-blue and wood hues. He told her no fussy, floral motifs. "He was proud of buying that apartment," she said. "Because he was on his own."
Mr. Caproni, 34, worked in the accounts payable department at Marsh & McLennan. Known as Richie to his family and friends, he was always teasing them to make them laugh.
In high school, he played football and remained a lifelong fan. He favored the Giants, but followed other teams; he had tickets to an Ohio State game in a few weeks.
His new apartment would have been the perfect place to kick back and watch "Monday Night Football."
"He just had to unpack a little more," his sister said. "And he was good to go."

9/11: The Reckoning