New York Times Portraits of Grief
MAMA BUNNY TO THE RESCUE
Carolyn Beug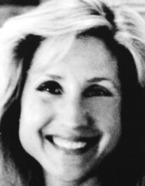 To careful readers of the latest issue of Rolling Stone magazine, Carolyn Beug was a force in the music business. She can be found in the Tributes section, just below Joey Ramone and just above Aaliyah. Mrs. Beug, who would have turned 49 yesterday, was the producer behind the video for Van Halen's "Right Now," which won an MTV Video Music Award for best video of 1992.
But to the girls' high school track team at home in Santa Monica, Calif., Mrs. Beug was something else: Mama Bunny. She raised money for track uniforms, led cheers at track meets, held track awards dinners in the backyard for a hundred or more people.
"She always called the kids on the team my little bunnies," recalled her husband, John Beug.
In 1998, she left the music industry to write a children's book. This year, she was finishing the editing of the book, about the story of Noah's Ark, told through the eyes of Noah's wife. But mostly she wanted to devote more time to Lauren and Lindsey, now 18, and Nicholas, 13.
In September, Mrs. Beug and her mother, Mary Alice Wahlstrom, helped settle the twins at the Rhode Island School of Design. The two women were flying back to California on American Airlines Flight 11 when their plane struck 1 World Trade Center.

9/11: The Reckoning