New York Times Portraits of Grief
BEHIND HUMOR, COMPASSION
Timothy D. Betterly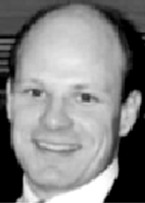 Timothy D. Betterly was a master of zany tricks, gag gifts and crazy costumes that family members readily acknowledge sometimes skirted the bounds of sound judgment.
Like the time Mr. Betterly, a bond trader at Cantor Fitzgerald, hopped on the back of a garbage truck passing by Madison Square Garden as he, his brother Donald and his wife, Joanne, were about to head home to New Jersey after watching a track meet. Mr. Betterly returned a half-hour later in a cab.
Once when his daughters, Samantha, 12, and Christine, 9, had a sleepover party, he took the pajama-clad group on a tour of such late-night hot spots as the Little Silver, N.J., cemetery, the all-night deli and the local jail, where he persuaded the sergeant to lock up the giggling girls. The resulting photograph was a keeper.
But Mr. Betterly, 42, the youngest of four brothers, had a sober side, too. In high school, he invited a mentally handicapped girl who always ate lunch alone to sit with his table of football players. She did, every day for two years, and the girl's mother later told Mr. Betterly's mother, Joan, that he had "made her daughter's life."

9/11: The Reckoning