New York Times Portraits of Grief
DREAMS IN THE CLOUDS
Jayceryll Dechavez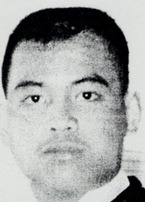 Jayceryll deChavez never came across like a know-it-all. He was smart but soft-spoken. Still, he had his ambitions.
For the longest time, he had dreamed of working in one of the twin towers of the World Trade Center. He even told his mother that he wanted to build his own tower.
Mr. deChavez got part of his wish. He worked as an assistant to the portfolio manager at Fiduciary Trust, a job that his parents said he loved, in Tower 2. He was 24 and had just passed the first level of a test to become a financial analyst.
He was eager to take a review class for the next level next month. He lived in Carteret, N.J., with his parents, Bibiano and Asuncion deChavez.
Despite his humble manner, his parents said, Mr. deChavez never had to struggle to ace tests. He had been at the top of his class from elementary school through Rutgers, where he studied finance and economics. "He was a very ambitious guy," his father said.

9/11: The Reckoning