New York Times Portraits of Grief
MAN WITH SNOWBLOWER
Kevin P. York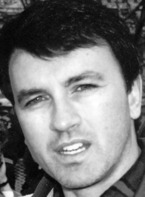 After a big snow last winter, the serene streets of Kevin P. York's neighborhood in Princeton were tucked under a thick blanket of snow. His new snowblower made easy work of his driveway. Then he wheeled it to a neighbor's driveway and cleared that one, too. And then he did another, and another, all day until the light gave out.
That's the way Mr. York, 41, was. He liked to buy things, often the best available, but his greatest enjoyment came from using them to take care of others, especially his wife and two sons.
"For Kevin, working in New York meant prosperity," said his wife, Chiemi. "He didn't come from a wealthy family, but he always thought that someday he was going to have anything that he could imagine wanting."
Long hours and hard work paid off, and as he progressed to senior vice president at Euro Brokers, Mr. York kept to his lifelong plan. A few years ago, he and Mrs. York incorporated their visions of stability and elegance into the house they built in Princeton. "The house was tangible proof of what he was doing for us," Mrs. York said.
Mr. York left the house early for the long commute to New York, but when he got off the train in the late afternoon his focus shifted from finance to family. Aidan, 1, is too young to understand, but Connor, 6, is upset because, he said, "Daddy didn't get to teach me everything."

9/11: The Reckoning