New York Times Portraits of Grief
HONEST ABE FROM KENTUCKY
Brian P. Williams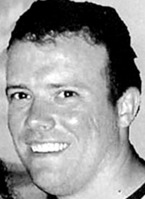 Brian P. Williams found stardom at Covington Catholic High School, in Kentucky. He won the "That's My Boy" award, given by northern Kentucky football coaches to the best scholar-player- leader (a prize now named after him). Columbia University recruited him for football. In New York, he acted as unofficial tourist bureau for visiting Kentuckians.
Those are the memories of Kenneth Williams Sr., a man who has lost two sons — Kenneth Jr., who died in 1994 after three years in a coma caused by a fall, and now Brian. The father adds another college-era memory, to show his son's generosity. As a college senior, Brian Williams used his emergency credit card to pay a bar bill for three cash-strapped buddies. He sent a check to repay his father, with a note explaining the charge. "I figured that was an emergency," the note said.
Brian Williams , 29, worked as a bond trader at Cantor Fitzgerald, with the ultimate plan of returning to the Cincinnati area near his family's home in Edgewood.
Kenneth Williams goes back to the day he drove off after delivering his son to start college in the big city. "When I looked back in the rearview mirror, he was standing in 115th street about two houses off Broadway and he looked like a deer in the headlights," Mr. Williams said. "On the road home I was half-talking to myself and said, `I'm going back to get that country bumpkin.' "

9/11: The Reckoning