New York Times Portraits of Grief
A LIFE WITHOUT LIFE'S LIMITS
Carlton F. Valvo II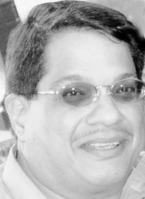 As ever, William Valcarcel was in his wheelchair Tuesday in his office on the 87th floor of 2 World Trade Center. "He used crutches at home, but in the office it was always the chair," said his 22-year-old daughter, Melissa. "Everything he did in his life was very hard."
Meaning that Mr. Valcarcel, 54, grew up in a Spanish-speaking household in Brooklyn, and was hospitalized for polio so severe that, for years, he was unable to go to school. That only delayed his learning of English and did not stop him from swimming, or learning to drive, or from earning an accounting degree and a job with New York State in a time when few Puerto Ricans were being hired. He rose through the ranks to supervising accountant for the Department of Taxation and Finance.
"He overcame everything," his daughter said. "He is a fighter. He always said to us, `never give up.' "

9/11: The Reckoning