New York Times Portraits of Grief
OUTDANCING HER HUSBAND
Lorisa Taylor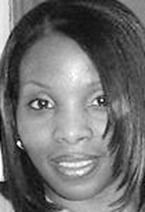 Lorisa Taylor actually believed the ruse worked. During visits to her mother, Mrs. Taylor would make a great show of looking through expensive new clothes seemingly bought by her sister. Speaking loudly so her husband could overhear, Mrs. Taylor would say to her sister: "You don't want this? Oh thaaaannnnk you!"
Despite her bottomless appetite for shopping, it was tough to stay angry at Mrs. Taylor, who had her purchases delivered to her mother's. She had a charming sunniness, a capacity to be delighted and to delight. That last weekend, the couple celebrated their seventh anniversary in a Brooklyn night club, with Mrs. Taylor, 31, outdancing her husband till they left at 4 a.m., she carrying her shoes, her bare feet tired but twinkling.
Her life outside of work -- she was an insurance broker at Marsh & McLennan -- revolved around her family in Brooklyn, which included their three girls and relatives. "She was my best friend," said her mother, Geneva Dunbar. "We would talk about things that mommy and daughters shouldn't even talk about."
On Sept. 11, Mrs. Taylor and her mother took the subway together to their jobs. Mrs. Taylor chatted about her anniversary and her girls, laughing loudly. The doors opened. Her mother stepped out. "I love you!" "I love you!" they called. As the doors closed, "she was still laughing," her mother said.

9/11: The Reckoning