New York Times Portraits of Grief
EAGLES AND BASEBALL CAPS
Edward Strauss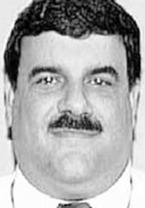 Edward Strauss loved the eagle. He was captivated by its appearance, its bearing, what it stood for. "He felt it was a majestic animal," said his widow, Jane. "And he was a patriot."
Thus Mr. Strauss, 44, a Port Authority manager, maintained a collection of eagles — the porcelain kind. Most of the replicas he kept in a curio cabinet at his home, but he always had a few on display in his office. He liked to gaze at them and have them nearby for others to see.
A devotee of Star Trek, he also had a thing about baseball caps. When he saw a cap, he bought it. Dozens of them accumulated. Caps bearing Looney Tunes characters were a particular weakness. He was a big man (size 22 neck). "Finding a cap that fit his head was amazing," Mrs. Strauss said.
Mr. Strauss was particular about dividing home tasks fairly with his wife. He insisted on doing all the food shopping (his wife cooked). Why? He was expert at detecting the best bargains.
"He would cut out coupons and everything," Mrs. Strauss said. "He did the food shopping with his mother, so he really knew how to do it."

9/11: The Reckoning