New York Times Portraits of Grief
A TOAST FROM THE CHILDREN
Robert Sliwak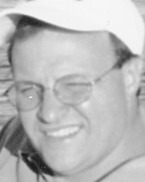 Ryan, who just turned 8, inherited Daddy's easygoing nature and athletic ability. Of the twins, who are almost 4, Kyle has Daddy's rascally sense of humor and, it must be said, his tendency to approach chores with a certain lack of urgency. And Nicole has his smile and love of song. "Her personality is mine, poor thing," said Susan Sliwak, their mother.
Robert Sliwak, who was a bond broker at Cantor Fitzgerald, lives on in his three children. That's what his wife says to help them, and her, get through these days.
Ryan understands what has happened, and has become more introverted. Mrs. Sliwak is working with a child psychologist at his school. Kyle has become more clingy; when his mother went from their home in Wantagh, N.Y., to visit the site, he pleaded with her not to go. Nicole was upset at first, but her mother has encouraged her to think of happier times.
Last Friday was their father's birthday -- he would have been 43 -- and they went out for pizza to celebrate. The kids all had soda, a special treat, and they raised their glasses and toasted him.

9/11: The Reckoning