New York Times Portraits of Grief
The Man Behind the Fun
Christopher Slattery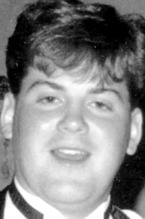 Fog cloaked the treacherous Colorado slope; a half-dozen skiers couldn't see past their ski tips. Then, through the soup, came a rhythmic clattering: Christopher Slattery, an expert skier, was banging his poles, leading them to safety.
To an ever-expanding circle of friends and relatives, Mr. Slattery, 31, a trader at Cantor Fitzgerald, was a leader and a catalyst. After college, he pulled together six guys to share a Manhattan apartment. Later, he took a caravan to the Kentucky Derby and two dozen Ranger fans to Montreal. At Giants tailgate parties, you never knew how many friends he'd arrive with.
But for a fellow who majored in fun, Mr. Slattery was remarkably thoughtful. Arranging a job for this acquaintance; paying for a room at the Plaza for that young woman to sleep it off. The exquisite toy horse that delighted his 3-year-old niece; the miniature color television set for his father to wear around his neck during Giants games.
A dying neighbor leaves Mr. Slattery's sister's wedding early: Mr. Slattery chats with him. Women tug at Mr. Slattery's sleeve: come dance! No, says Mr. Slattery, I want to talk with this gentleman. The ill neighbor chooses to stay. Mr. Slattery has compelled him to celebrate the good times a little longer.

9/11: The Reckoning