New York Times Portraits of Grief
LOUD AND CARING
Ian Schneider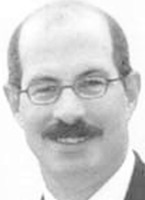 Lost: Ian Schneider, 45, of Short Hills, N.J., a husband, a father of three, a loving son and brother, a quick wit, a Wall Street executive, a swimmer and a golfer, a Brooklyn native who loved the Yankees.
Not least, a mensch who coached boys' and girls' teams and magically touched the lives of hundreds of children with his big, bluff voice and his gentle, understanding guidance.
After 23 years with Cantor Fitzgerald, he was a senior managing director, running staffs of bond traders on the 104th floor of 1 World Trade Center.
But family was his fulcrum -- his children, Rachel, 10, Jake, 9, and Sophie, 7; his fraternal twin, Joel, his mother, Terry. But they all had to share him.
For four years, he had coached Little League baseball and the soccer, basketball and softball teams of the Millburn-Short Hills Recreation Department.
"On the field, he had a loud, boisterous voice," recalled his wife, Cheryl. "You always knew he was out there. But he never lost his temper with the children. He always positively reinforced them. He sent them e- mails with pointers after the games. He complimented kids on other teams. When a kid got hurt, he was the first one on the field. People just felt good being around him."

9/11: The Reckoning