New York Times Portraits of Grief
MINOR FAME, MAJOR FUN
Edward Saiya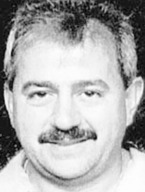 The Saiya brothers have a place among the countless lesser-known Brooklyn legends. Frank, Art, Mike and Eddie were known as the Fame Brothers of Dayhill Road, based on the first letters of their names.
The Saiyas were tough boys. They went to Catholic school and they liked their beer. They served in Vietnam. But they were not so tough that they could not say they loved each other. Mike Saiya died a few years ago of liver cancer. Eddie Saiya, 49, was a communications engineer who worked on the 110th floor of 2 World Trade Center.
"He called me that morning from the roof, calm as could be, and told me to turn on the TV," Frank Saiya said. "The first building had been hit. He thought it was an accident."
Edward Saiya had two children, Katherine, 16, and Shawn, 11. Their mother, who has Alzheimer's disease, sometime asks how Eddie is doing, Frank Saiya said. They tell her just fine.
Frank, 60, is the eldest Fame brother. He now lives in Topeka, Kan., and has 20 pounds of the trade center rubble in his home. "Maybe part of Eddie is in there," he said. He's got that and the memory of Eddie Saiya in 1969 chasing down two thieves who had stolen his car. "He wasn't wearing anything but his skivvies."

9/11: The Reckoning