New York Times Portraits of Grief
A SNEAKY SENSE OF HUMOR
Matt Rogan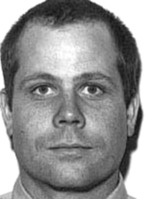 He did not particularly like Christmas. Too commercial. Hated his birthday. Too much attention. He watched the History Channel. He knew instinctively how to trim back a plant, and his first crop of grapes was so bountiful that he and his wife, Melissa, thought that next year they would try to make wine. He took his children backpacking in the Adirondacks. His family lived in the same house in West Islip, N.Y., in which he had grown up.
But that accumulation of low-key details does not translate into Matt Rogan, quiet, retiring guy. A firefighter like his father and brother before him, Mr. Rogan, 37, had a sneaky sense of humor. Once, after he had minor surgery on his chest, he told his nieces and nephews that he had had a third nipple removed. When he ate dates covered in nuts, he claimed that they came from the cat's litter box.
With the children no longer babies, the couple were planning a more luxurious future. When he retired, he dreamed, they would ride motorcycles across the country. "He wasn't sentimental; I was the sentimental one," said Mrs. Rogan. "He always said if he won the Lotto, he would sell the house in a second and move upstate."

9/11: The Reckoning