New York Times Portraits of Grief
WEARING MANY HATS
Carmen A. Rivera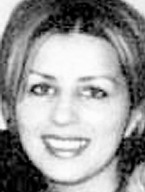 On the night after the collapse of the twin towers, a co-worker of Carmen A. Rivera called her husband at the couple's Orange County, N.Y., home and left a message saying that the two women had been heading down the stairs from the 96th floor of 2 World Trade Center together but lost each other. "She was O.K.," the co-worker said. "She's alive somewhere."
Luis Rivera, a circulation manager for The New York Times , clung to that thought more than two weeks after the tragedy, and continued putting up posters and checking hospitals long after most others had resigned themselves to the loss of a loved one. Mrs. Rivera, 33, an assistant vice president for Fiduciary Trust Company International, worked full time and raised three children, but also found time for the gym and for night classes twice a week to get a master's degree in business, her husband said.
The best mother, an inspirational friend, the ultimate woman, Mr. Rivera said, his wife was also a survivor. After the first plane hit, he said, she called him as she made her way down and told him she had left her purse behind but had grabbed a gold rosary her mother gave her.
"I know she made it out," he said. "She's out there with amnesia or something."

9/11: The Reckoning