New York Times Portraits of Grief
The Perfect Daddy
Frank Reisman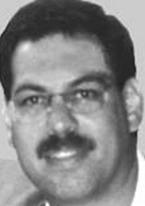 When Frank Reisman was single, mountain climbing was his passion. The summer after the end of college, he hiked the Appalachian Trail alone from Maine to Pennsylvania, picking up dry food that his parents, George and Evie, mailed to him at post offices along the way.
After Mr. Reisman married, family was his focus. Every evening around 6:15 he returned home, where his wife, Gayle, and their two children, Kasey and Dillon, always waited for him to have dinner.
Living in Princeton, N.J., and working at Cantor Fitzgerald on the equities desk, Mr. Reisman, 41, was the perfect suburban daddy, his wife said. He coached Kasey's softball team and took Dillon to golf on the weekends. He taught them how to download music from the Internet and ferret out useful information. Because he left home before the children got up for school, he always sent them online messages from work.
On the morning of the attack, he phoned his wife, who happened to be out jogging. He reached his mom. "He said: `I'll be fine. Don't panic, Mom. I love you,' " Evie Reisman said, as tears welled up in her eyes.

9/11: The Reckoning