New York Times Portraits of Grief
Life in Perspective
Peter F. Raimondi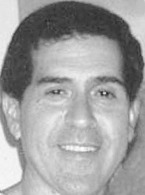 The day after Thanksgiving, Peter F. Raimondi would always put up the family's Christmas tree, and by the weekend he had turned his attention to his mother.
"Mama, put the hot chocolate on and play the Christmas music," said his mother, Candida Raimondi, recalling his words. "He was always trying to make life special for everyone."
Whether it was his open-door policy as first vice president of Carr Futures on the 92nd floor of 1 World Trade Center, games of basketball and chess with his sons or home decorating with his wife, "Everybody was a priority to him," said his wife, Lenore. The 46-year-old father of two didn't just take the family on vacation, she said. He would do exhaustive research for the trip and serve as tour guide.
Above all, he believed in taking life in stride, and he made a plaque for the refrigerator with this motto: "It Doesn't Really Matter." When last heard from, he was stuck in a trade center elevator. "Anytime I worry about anything now, I look at the refrigerator," his wife said. "That's helped get me through."

9/11: The Reckoning