New York Times Portraits of Grief
'CHRISTMAS CAROL' ALL YEAR
Christopher Quackenbush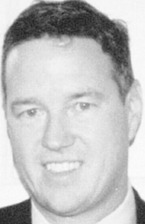 Most people think of "A Christmas Carol," the Charles Dickens classic, only during the holidays. But the tale of greed and redemption was on Christopher Quackenbush's mind his entire life.
As a founding principal at Sandler O'Neill & Partners, Mr. Quackenbush, 44, thrived on sharing his wealth. He created the Jacob Marley Foundation, which provides scholarships and programs for poor children on Long Island, including annual trips to Shea Stadium for Mets games. The Mets themselves once played Tiny Tim to Mr. Quackenbush's Scrooge: he flew some team members to Washington on his company jet last June to meet President Bush.
In keeping with the story that haunted him, Mr. Quackenbush's generosity peaked at Christmas. "He would give us all a trip somewhere," his sister, Gail, said. "A ticket to whatever we really wanted to do."
Not only that, but Mr. Quackenbush took his wife, Traci, their three children and a throng of relatives to see "A Christmas Carol" at Madison Square Garden every December, reminding them not only of the importance of spreading good fortune, but of having fun doing it. They have resolved to go without him this year. "We're not going to have a good time," Gail Quackenbush said, "but we're trying."

9/11: The Reckoning