New York Times Portraits of Grief
WINE BY NIGHT
Matthew Picerno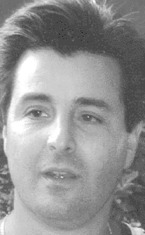 Try, now, to envision a municipal bond broker, in his 104th-floor office, who dreams the green and bacchanalian dream of being a winemaker. That was Matthew Picerno, 44, of Holmdel, N.J. By day he worked at Cantor Fitzgerald, rising at 5:30 a.m. Six months of the year, when the day job ended, he headed over to Jersey City, to his Bacchus School of Wine franchise, and worked there until 11 p.m. It was a former two-truck garage, well scrubbed, with Italian flags and piped-in Sinatra. The students turned out 200 barrels of wine a year, the school only broke even financially, but what does money matter in an affair of the heart?
"This was a hobby," said his wife, Petrina Marie, "but he really enjoyed it. Municipal bond broker at day, winemaker at night. He was pretty wild, very loud. This was a man if you told him this was a rule, he would try to break it just because it was a rule. Anything. Driving. He lost his license at least twice in his lifetime."
Mr. Picerno, who leaves three children, aged 9, 12 and 14, had planned to pursue winemaking full time when he left Wall Street.

9/11: The Reckoning