New York Times Portraits of Grief
NO WASTER OF SLEEP
Matthew O'Mahony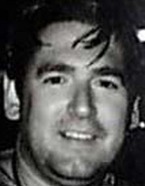 Matthew O'Mahony, 39, refused to let sleep usurp time that could be put to better use. The hours he could allot to pleasure were limited enough, without sleep cutting into them. On his annual Paris vacation, for instance, he was ready to start the day at 4 in the morning. "Let's go for a walk in the Tuileries," he would say, nudging Lauren, his wife, awake. "Let's go see it when no one else is there, so we can appreciate it."
They lived downtown, near his work as a Cantor Fitzgerald trader, but spent weekends at their farmhouse in Columbia County. They would squeeze every last hour of their time in the country by driving back very early Monday morning.
Mrs. O'Mahony remembers awakening at 4:30 one Monday, looking out the window and seeing her husband, out on the lake in the boat, fishing for bass. "He had an extra 15 minutes," she said. "So he was going to enjoy them."
He had a flair for drama, and used it to heighten the spectacle of gift giving. They locked horns on the question of buying a horse. He loudly, adamantly opposed it. That made his choreographed anniversary scene all the more satisfying. He led an Arabian chestnut out; she stared incredulously until he finally said: "Are you dense? Look at the ribbon around its neck!"
His real success was keeping it a surprise. Only close friends knew — which, for Mr. O'Mahony, meant at least 50 people.

9/11: The Reckoning