New York Times Portraits of Grief
THE MAYOR OF THE HAMPTONS
Jeffrey Nussbaum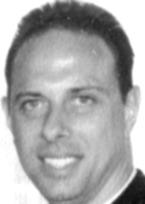 Jeffrey Nussbaum's friends called him the Mayor of the Hamptons. After 10 or 12 summers there, he knew more people than many meet in a lifetime. "If there were 300 people in a bar," said Arline Nussbaum, his mother, "he knew 200." Friends say he liked to get one group together with another — and then introduce the combined group to a third. Given another 10 or 15 years, he might well have managed to introduce one half of the Hamptons to the other.
A trader at Carr Futures, he was a big man — 6-foot-4, 230 pounds. His talent — besides making friends — was sports with balls. "Basketball, baseball," said Melissa Brunschwig, his sister. "Tennis, golf. Give him any kind of ball, he was good. It sickened his friends."
A die-hard New Yorker, he played ball with teams in city parks. Afterward, he went to bars, restaurants, clubs — anyplace where people mingled. "He was really, really social," said Mrs. Brunschwig. "We were shopping together in Secaucus. We went to two stores and he met people he knew in each. Everywhere he went — everywhere — he knew people. And if he didn't, he'd meet them."

9/11: The Reckoning