New York Times Portraits of Grief
'SEND A STAR UP TO DADDY'
Robert Noonan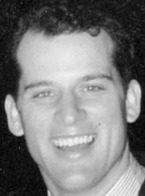 Each night before bed, Chance Noonan jams his chubby 3-year-old feet into some tight sneakers and scampers outside his home in Rowayton, Conn., to "send a star up to Daddy."
The ceremony starts as his mother, Dana, hands him a sparkler. Picking out what he imagines is his father's star, Chance then whizzes around his yard like a comet, shouting "Yea, Daddy."
His father, Robert, 36, a broker for Cantor Fitzgerald on the 105th floor of 1 World Trade, never came home on Sept. 11. His wife and child have since gone through boxes of sparklers. "We haven't missed a night yet," said Mrs. Noonan.
The ache is everywhere. There were 15 pictures of Robbie, as they called him, on the refrigerator alone. When Chance was born, it was his father who tended him at night, charting how much formula was consumed on his watch. When Chance grew, Mrs. Noonan slept in on Saturdays, while Mr. Noonan made the pancakes. And when Chance outgrew his sneakers this year, they put off buying a new pair because his father had wanted to help pick them out.
Mrs. Noonan lost her childhood sweetheart as well. When she first caught his eye at Greenwich High School in 1984, he had already been named Mr. May, and was pictured leaning against a goalpost in that year's "Men of Greenwich" calendar. Girls' schools as far away as Avon, Conn., had Robbie fan clubs. Dana McGowan, however, won the prize, and the two made a striking bride and groom, her in immaculate white, him in full Highlands regalia.

9/11: The Reckoning