New York Times Portraits of Grief
A People Person
Katie Mcgarry Noack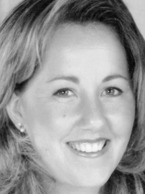 When people met Katie McGarry Noack at parties, they remembered her. She had a knack for turning strangers into acquaintances and acquaintances into friends. "We were at a party in Australia for just a few hours," said Brad Noack, her husband, who grew up in Sydney. "But they all still remember the Yank."
Mrs. Noack, 30, made use of her charm: talking her way out of a speeding ticket, for instance. Her verbal adeptness was famous among family and friends.
So was her consideration for them. She would go to school meetings with her sister and autistic godchild, and on the spur of the moment, drive 45 minutes at night to comfort a grieving friend. She was married only six months, and had worked at Telekars USA for only six weeks. She was at a breakfast meeting at Windows on the World on Sept. 11. She was full of plans, for children and perhaps for a career in forensics. "She was just starting her life," Mr. Noack said.

9/11: The Reckoning