New York Times Portraits of Grief
THE 'DEVILISH' TWIN
Kristen Montanaro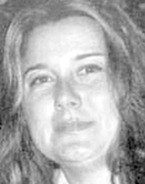 Karen Montanaro was the cautious twin. Kristen, her identical sibling, lived life with gusto.
Their personalities. That's how their mother, Ellen, could always tell her twin girls apart. Kristen Montanaro, 34, was quick to spend the money she earned as an administrative assistant at Marsh & McLennan at 1 World Trade Center, shopping for clothes or traveling with her twin and her younger sister, Jamie. "Who's going to treat me better than me?" Kristen Montanaro often told family and friends.
"If she had a dime, she would spend it on herself," said Karen Montanaro. Now, she said, her "devilish half" is gone.
Kristen was the one who sneaked out at night and then tried to con her mother into thinking she was Karen. The memory is sweet and makes Karen laugh.
They did everything together: grade school, high school, college. When Karen found a job in the Wall Street area, the twins rode the subways together. "We could go into a mall, go our separate ways and come out with the same outfits," said Ms. Montanaro.

9/11: The Reckoning