New York Times Portraits of Grief
'A WAY ABOUT HIM'
Rocco Medaglia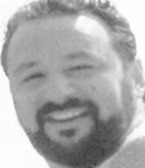 The class couple way back when, a couple with two grown daughters now, Rocco and Marian Medaglia were the talk of their high school reunion this summer: "People we hadn't seen in 30 years said, `Oh my God, you're still together!' " Marian Medaglia recalled from their home in Melville, N.Y. They shared the same bus stop in grammar school, started dating in junior high, married not long after high school graduation in Massapequa. "Any time we broke up, he'd tell me, `You know we're going to get married someday.' He had a way about him."
He was a jokester, a storyteller who did not mind embellishing details. It was only natural that the Army chose him as a recruiter in the 1970's: "He could charm the pants off anybody, even make you want to join the Army," said his wife. Around Melville, she was known as Mrs. Rocco, his daughters as Rocco's kids. When ordering takeout or dropping clothes at the dry cleaner, the family never used their last name: "Rocco" was enough.
Rocco Medaglia, 49, was a construction supervisor for G.M.P. Inc. and last week was putting the finishing touches on a renovation for Cantor Fitzgerald. The project kept him so busy over the summer that he missed the annual family vacation in Moodus, Conn., but he kept up with the weeding and transplanting in his beloved perennial gardens. And he always tended the barbecue.

9/11: The Reckoning