New York Times Portraits of Grief
KING OF THE WISECRACKS
Brian Martineau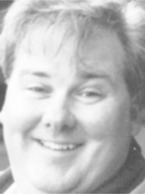 Brian Martineau was a big guy and a funny man, with a brash sarcastic way about him that cracked people up. But though he was hardly shy about sharing his opinions, especially about the British underground bands in his collection of 5,000 CD's, Mr. Martineau, 37, could still make room for people to be heard. He was the self-appointed one in a crowd who would welcome newcomers at the door, the genial host and all-purpose cook at so many family get-togethers.
His new job as a benefits consultant at Aon opened the way to several firsts: first time in a New York City taxi and a subway, first time as part of the skyline he used to see from his old job in New Jersey, featuring those towers he thought were exciting but kind of intimidating.
He just was not a city person. Mr. Martineau was most comfortable reigning on familiar turf. He grew up in Edison, N.J., and was raising his young family there. He was king of the kitchen, where he prepared Sunday breakfasts and dinner every night for his wife, Bettyann, who got home from work after he did. Home was where a wise- cracking king could show his gentle side: every night before he went to bed, Mr. Martineau made sure he kissed his two children, even though they were asleep.

9/11: The Reckoning