New York Times Portraits of Grief
A DRESS TRANSFORMED
Susan Mackay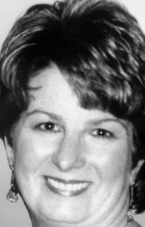 Susan MacKay, a vice president at the TJX Companies , a discount apparel and home fashion retailer, had been looking forward to her business trip to Los Angeles for weeks when she and some colleagues boarded American Airlines Flight 11 in Boston on Sept. 11. "She loved the travel part of the job, and had been looking forward to this California trip all summer," said her husband, Douglas. "They have a good time when they travel."
Ms. MacKay, 44, spent her entire professional life in retailing, first for Jordan Marsh, then for Marshalls, a retailer that was later bought by TJX. But she was much more than a working woman.
"She loved her job, but she was so excited about having children," said Nan Alphen, a longtime friend and neighbor in Westford, Mass., about 25 miles northwest of Boston. "They were the highlight of her life."
Ms. Alphen recalled that Ms. MacKay, an accomplished seamstress, transformed her wedding dress into a christening gown for Matthew, 13, and Lauren, her 8-year-old daughter. "She loved to sew," Mr. MacKay said. "Everything in the house, she made. The comforters, the pillows. Her youngest sister got married last fall. She made her wedding dress."

9/11: The Reckoning