New York Times Portraits of Grief
STEALING QUIET MOMENTS
Thomas V. Linehan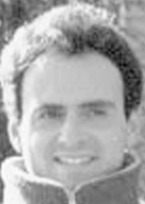 If anyone had asked Thomas V. Linehan what his idea of a perfect vacation was, he would have said that it was a week spent at home in Montville.
"He was a quiet person," Carol Linehan said of her husband of almost 10 years. "We were basically homebodies. He was very private."
A senior vice president at Marsh & McLennan, Mr. Linehan enjoyed working on his yard and playing with the couple's two children, Melissa, 7, and Tommy, 4. They would frolic in the treehouse in the backyard, he would make picnics for them and he would take them on walks. "My daughter always knew how to get a laugh out of him," Mrs. Linehan said.
Mr. Linehan, 39, was not without friends. His memorial service last Saturday in Montville was attended by hundreds of friends, from his high school days in Vernon, his days at the Assumption College in Massachusetts, and by friends from jobs. There were even people there from the men's softball team he belonged to in Vernon, the Mud Chickens.
The Linehans met on a blind date, arranged by Mrs. Linehan's brother-in-law, Dennis Taormina, who worked with Mr. Linehan and was also on the 98th floor of 1 World Trade when it was attacked.
When they met, "it was like love at first sight," Mrs. Linehan said. "We met in June, were engaged by October, and married in February. We had almost 10 wonderful years together."

9/11: The Reckoning