New York Times Portraits of Grief
Open to Adventure
Deborah Kobus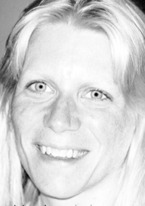 Getting downsized is no fun at all, unless you have the Deborah Kobus perspective on things. Ever since her days at New Utrecht High School in Brooklyn, she was the sort who knew how to cheer herself up, lately by sailing to Tahiti or going skiing in Argentina.
So her response to getting abruptly fired during the economic downturn just over a year ago was to jump into her Ford Explorer and drive to Colorado, figuring the skiing would be great. Work would take care of itself. It always did. She walked into the St. Regis Hotel, arguably the best ski hotel in Aspen, and walked out with a switchboard job that left weekends free for skiing and who knows what else?
The what else was meeting the man who would become her fiancé, Alexander Setzler, who also worked at the hotel.
When the skiing ended, Ms. Kobus, 36, returned to New York to help her brother, Robert, care for their mother, who has Alzheimer's disease.
She soon found a job on Wall Street, as assistant vice president at Chuo Mitsui Trust and Banking Company, on the 83rd floor of 2 World Trade Center. On Labor Day, Mr. Setzler proposed, successfully. Ms. Kobus planned to tell her mother and brother the happy news the following week.

9/11: The Reckoning