New York Times Portraits of Grief
THEIR TIME TOGETHER
Marian Hrycak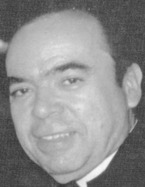 "This was supposed to be our time now," Joanne Hrycak said of her husband, Marian Hrycak, who went to work as usual on Sept. 11, but never came home. The couple had been getting ready to take their annual trip to Vermont, were sprucing up their home in Flushing, N.Y., and had just bought a puppy.
Now, she said, she has learned things she never knew about her husband of 32 years. It was no secret that the 56-year-old collected books, stamps, coins and Conan comic books. But she had also found tuna fish cans and toothpaste tubes he had squirreled away for some far-off reason.
When they met in 1967, she could not bring herself to call him by his given name. What was his mother thinking? "I just couldn't," she said. "He was Marty."
He took her ice skating on their first date and nearly broke his neck, but it did not matter. They married in 1969, raised two children, and he eventually went to work for New York State's Department of Taxation and Finance. His specialty was investigating shopkeepers who charged consumers tax on items that are tax-free.
Shortly before 9 a.m. the day of the attacks, he called to say he was safely out of the building. She later learned he was not. He was last seen on the 78th floor of the south tower, helping some elderly coworkers evacuate, before the second plane hit.

9/11: The Reckoning