New York Times Portraits of Grief
GOING TO WORK ON A DAY OFF
George Howard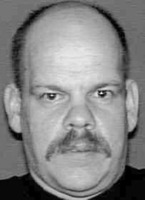 Sept. 11 was the second time that George Howard, a Port Authority police officer, was enjoying a day off when he heard that there was trouble at the World Trade Center. It was also the second time that he raced to work, voluntarily, into the midst of the chaos. The last time was 1993, when the trade center was bombed. "He always did that," said his mother, Arlene Howard. "He heard about it and called up and said, `I'm on my way.' "
Mr. Howard, who was 44 and lived in Hicksville, N.Y., worked in the Port Authority's emergency services unit, an elite group he helped found. To him, Mrs. Howard recalled, the unit combined the best of police and rescue work.
In his spare time he volunteered for the local fire department and he trained other police and fire departments in safety and rescue work. And he loved coaching children, including his own two sons, Christopher, 19, and Robert, 13.
When President Bush visited ground zero just after the attacks, Mrs. Howard was asked if she would like to present him with her son's silver shield. When the president mentioned the shield in a subsequent speech, and said he could carry Mr. Howard's memory forever, Mrs. Howard said, "That made me very proud."

9/11: The Reckoning