New York Times Portraits of Grief
MUSICIAN TURNED CHEF
Jeffrey P. Hardy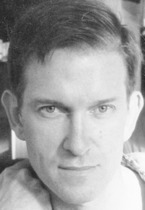 Jeffrey P. Hardy was a musician from a musical family, but after he had been at it for a few years he decided to look for a better-paying career, and went to cooking school. After working at a number of New York City restaurants, he and his wife, Suzanne Gabriel, started a family, and he looked for a way to spend more time with them. Being a corporate chef was the answer, because someone who worked the breakfast and lunch shift could be home early.
For the last two years, Mr. Hardy, 46, was an executive chef at Cantor Fitzgerald, whose offices were high in the World Trade Center. On Sept. 11, as every day, he left his Brooklyn apartment before 5 a.m. to get to work cooking breakfast for bond traders.
"He had such tremendous energy," said Ms. Gabriel, a public relations executive. "He got up so early, and he was on his feet all day, but when he got home he was the one getting the kids to kick a soccer ball." Then, she added, he would cook dinner for the family.
At a party last year, he talked of the pleasures of watching his sons, Max, now 11, and Duncan, 7, grow while still having time to play the bass, which he did primarily in Greenwich Village, sometimes accompanying his brother, Jack Hardy, a singer-songwriter.
"If he knew I was talking to you," Ms. Gabriel told a reporter, "he would want me to mention that he was a huge Mets fan and that he had not given up on them this year."

9/11: The Reckoning