New York Times Portraits of Grief
SPRINGING INTO ACTION
John Griffin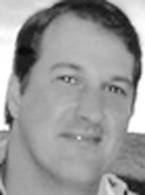 As an engineer and director for operations for Silverstein Properties, the company that leased the World Trade Center in July, John Griffin first thought something big — maybe a transformer — had blown up. He threw a fire extinguisher through the glass wall of his 88th floor offices on 2 World Trade Center, looked up at the havoc on the floors above, and knew that it had been a plane. Survivors said he quickly handed out wet towels.
"He was at the back of about 30 people they were evacuating," his wife, June Griffin, related from the accounts of survivors. "He had been in fires before — he should have gotten out."
Before that day, Mr. Griffin, 38, focused on other passions — the Rangers, the Yankees and the Giants; doing school projects back in Waldwick, N.J., with his children Jenna, 11, and Julie, 9.
Mrs. Griffin speculated that her husband, instead of running for the exits, headed for the fire control center, where his training as a fire safety officer would have directed him. "He was an engineer," Mrs. Griffin said. "He must have thought, `Buildings don't just fall down.'"

9/11: The Reckoning