New York Times Portraits of Grief
HE BANISHED FORMALITY
Vincent Gallucci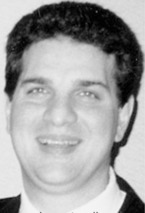 Vincent Gallucci was not one to be bound by the formality of the upper echelon of a big financial firm, his wife, Barbara, said. "A friend said that even though he was a senior vice president in a very corporate environment" — the information technology department of Marsh & McLennan — "he would pass by the desks of colleagues, people above and below him, and he would pinch them on the side or give them a big hug."
Mr. Gallucci's easygoing style apparently served him well. After his death, his wife was informed that he was to have been promoted to managing director in November. "That was something he was really looking forward to," she said. "You don't go much higher than that."
Mr. Gallucci, 36, never lost sight of what motivated him — his wife and son and daughter and their house in Monroe Township, N.J. "He was working so hard because he wanted to achieve, but really he wanted to be with the kids," Mrs. Gallucci said. "His weekends were not spent golfing with friends."
Mrs. Gallucci did not feel much like celebrating Christmas this year, but the kids insisted on it: Daddy's Last Christmas, the 7-year-old, Joseph, called it. Now that the holidays are over, the Galluccis have plans for their Christmas tree.
"We're going to plant it in the backyard for Dad," Mrs. Gallucci said.
"Everything was teamwork so we could go out and enjoy ourselves," Mrs. Nita-Gallo said. "We completed each other."

9/11: The Reckoning