New York Times Portraits of Grief
IRON AND METALLICA
John J. Florio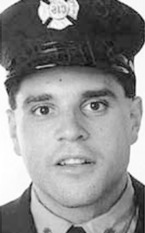 If it was 6 a.m. and Metallica was blasting from the basement of Engine Company 214 in Bedford-Stuyvesant, it meant that John J. Florio was down there pumping iron.
Mr. Florio, 33, was an athlete, built like a box of bricks, the kind of man who made starting halfback the first year he tried out for the Fire Department football team. He was the metalhead of his Brooklyn firehouse, an electric presence in a place that was already called "The Nuthouse."
"He would have been in charge of the mosh pit if we had one," said Roddy Richards, a colleague and a friend.
Mr. Richards said one of Mr. Florio's oldest buddies once stopped by the firehouse and joked that Mr. Florio had been an A- student in the fourth grade -- until the teacher moved the smart girl away from him. But John J. Florio cared about other things, like his wife, Shari, and his children, Michael and Kylie.
Then there was his beloved Metallica. The night that the men of Engine 214 found Mr. Florio's body, someone called to say, turn on the radio. They did and they caught the opening riff of a Metallica song. Mr. Richards knew it was a message. "We were all like, `O.K., John.' "

9/11: The Reckoning