New York Times Portraits of Grief
SUE?OS COME TRUE
Obdulio Ruiz-Diaz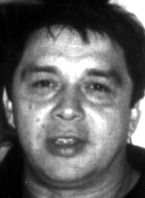 Obdulio Ruiz-Diaz talked often of mis sueños — "my dreams." He had come to the United States from Paraguay and said that he wanted a good job, a family and a good home for them.
He dedicated his life to realizing all three goals, said his wife, Rosa Villalba. He brought her to the United States from Paraguay and they had three children: Vanessa, 10, Pamela, 8, and Bryan, 6. Trained as an architect, he found work that he enjoyed as a draftsman and project manager at a New York company, Bronx Builders. And, at 44, he found the house of his dreams, he said, in Valley Stream, N.Y.; they closed the deal on Sept. 6.
"Todos mis sueños se estan haciendo realidad," he said. "All of my dreams are coming true."
With the help of family and friends, Ms. Villalba and her children moved into the house on Sept. 14, but without Mr. Ruiz-Diaz. They celebrated Christmas with the family of his best friend, Manuel DaMota, who was working with him on a project at Windows on the World on Sept. 11. The families set aside two empty chairs in their memory. "Everybody had wet eyes that night," Ms. Villalba said.

9/11: The Reckoning